Trips support the company in the planning and optimization of these.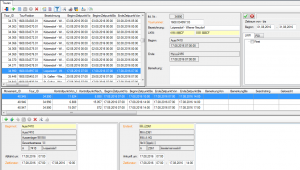 Transfer orders are grouped into trips and placed in an order here. An order usually consists in bringing a certain number of units of a consignment from a start to a destination. A tour can therefore consist of several checkpoints but in any case precisely defined by start and end location with the respective control points. A digital road network, a customer master file and a list of vehicles are inevitable.
Partial, groupage and full loads can be quickly and efficiently planned.
Objectives:
Trips detection / overview
Route planning
Optimization of transport costs, vehicle utilization and working hours
Minimization of the vehicles used, the distance traveled and CO2 emissions
Transparent overview of the actual state